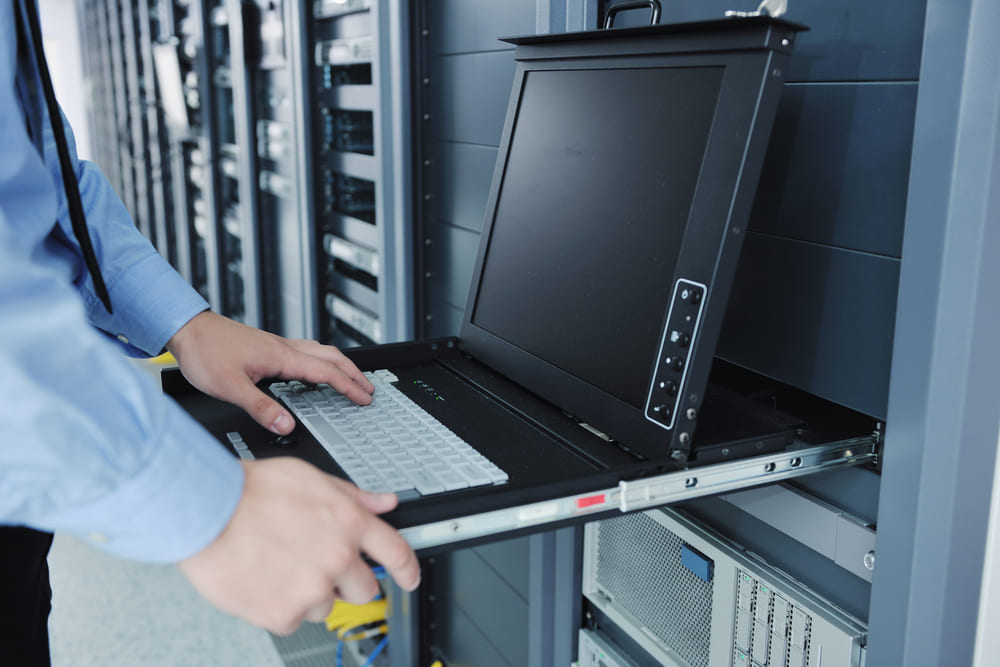 Managing a data center on-site is rarely feasible for small to mid-sized businesses, which is why many of them turn to colocation data center solutions instead. Bigger companies also use colocation data centers because it's simply more cost-effective and less complex than managing their own physical IT infrastructure.
However, if you do use a colocation data center, you'll have to worry about sending your own IT personnel to the data center to check up on your equipment, install new hardware, troubleshoot any IT issues, and deal with other related tasks.
This can get quite expensive, especially if your IT personnel need to travel long distances to the data center. It's why many colocation data centers offer smart hands support services on top of their basic remote hands support.
Remote hands support provides basic technical support (such as installing new hardware, checking the cables, and monitoring performance). In contrast, smart hands support provides more advanced IT help.
Smart hands specialists are experienced and qualified personnel who can help with more complex tasks, such as troubleshooting, system configurations, and more. As a result, you won't have to worry about employing your own IT personnel there since there will be someone there to do those tasks for you.
How Important Is Security In Data Center Operations?
Data centers are vital to our modern digital world. They must be properly secured to protect both the businesses that rely on them as well as the customers whose data is stored in them. This means having robust security measures to protect against malicious actors, such as unauthorized access, malware, and other cyber threats.
Having smart hands personnel who are knowledgeable about security protocols is essential for data center operations, as it helps ensure that security measures are constantly being monitored, enforced, and updated as needed.
In addition, smart hands personnel can help mitigate risks by monitoring potential threats, implementing proper data handling protocols, and restricting access to authorized personnel only. This helps ensure that your data is secure and safeguarded against malicious attacks or breaches.
What Is Smart Hands Support In Data Centers?
Smart hands support in data centers is a service that provides businesses with the expertise they need to quickly and effectively manage their IT equipment in colocation data centers.
This service benefits small to mid-sized businesses that cannot send their own IT personnel due to cost or distance constraints. Not only can it be expensive to hire IT personnel, but if the data center is far away from your business, the cost of travel can also be prohibitive.
Smart hands support ensures that all necessary tasks are completed quickly and efficiently so companies can continue focusing on their operations. It also provides peace of mind to businesses, knowing that their valuable data is securely stored and managed.
Why Do Data Centers Need Smart Hands Support?
Data centers often house expensive and high-volume equipment and technology. As a result, it can be difficult for in-house technicians to handle all the necessary tasks efficiently when they are stretched thin and don't have the specialized expertise required to handle more complicated IT tasks.
This is where smart hands support can come in handy. Smart hands specialists are experienced and qualified personnel who can help with more complex tasks and time-sensitive tasks, such as technical issues that need to be addressed immediately.
Data centers that don't offer smart hands support will only be able to assist with basic IT tasks on your behalf. It means that anyone who uses their data center will have to send their own IT personnel for more complex tasks. Unfortunately, this limits who can use the data center.
A business located hundreds of miles away won't want to use a data center that doesn't offer smart hands support because it would be too costly to send IT personnel that far every time there is an issue that basic remote hands support services can't handle.
How Do Data Centers Use Smart Hands?
Data centers are also using smart hands to stay ahead of the competition by offering faster, more reliable services to their customers. By having qualified staff available for any technical tasks that need to be done quickly or that require specialized expertise, data centers can remain competitive and provide an enhanced customer experience.
Additionally, smart hands services are becoming increasingly important for data centers to ensure they meet security and compliance standards. Smart hands personnel are often trained in the latest security protocols, helping to reduce the risk of data breaches and protect the facility from malicious attacks.
Overall, smart hands support provides an invaluable service to businesses by allowing them to quickly and effectively manage their equipment located in colocation data centers. This service is essential for businesses that rely on the data center to handle their IT needs and ensure their data is secure and managed properly.
5 Services Offered By Smart Hands Support
Now that you have a clearer understanding of what smart hands support is and why it's crucial for colocation data centers, there's no denying that it can be an excellent resource for businesses. Here are five of the most common services offered by smart hands support:
1. Equipment Installation
Smart hands personnel can install any type of hardware or software your business may need. They can configure and install the equipment, as well as make sure that it is functioning correctly. They can also help with the installation of new hardware components and peripherals, and can check and replace cables as needed.
Additionally, they can pack up old equipment and unpack new equipment to install.
2. Hardware/Software Troubleshooting
Smart hands personnel can troubleshoot any hardware or software issues that may arise. They can help identify the root cause of the problem and then provide solutions to fix it. This is particularly important for ensuring that your business always stays up and running.
In addition, because smart hands personnel are present at the data center, they can also troubleshoot emergency issues that your own IT personnel wouldn't have been able to address immediately due to distance.
3. System Updates And Upgrades
Smart hands personnel can provide updates and upgrades to your systems. This includes installing new software, updating existing software, or patching any security issues that may arise. These are important tasks that need to be done regularly to ensure the safety and functionality of your systems.
4. Network Configuration
Smart hands personnel can help with any network configuration tasks. This includes setting up new networks, as well as troubleshooting and fixing any existing network issues. They can also provide advice and assistance with optimal network configurations and settings to ensure stability and performance.
5. Equipment Maintenance And Repairs
Last but not least, smart hands personnel can provide maintenance and repairs for any equipment in the data center. They can perform routine checkups and cleaning, as well as handle any repairs that may be needed. This is important for ensuring that the equipment runs smoothly and efficiently and can help prevent any costly downtime or problems in the future.
What To Look For In A Smart Hands Provider
First of all, not every colocation data center offers smart hands support. Some only have remote hands support. Therefore, if you want the highest level of service, it's crucial to find a company that offers smart hands support. That being said, all smart hand support services are different. To choose a level of support that suits your needs, be sure to look for the following:
1. Industry Experience
You'll want to make sure that the smart hands support personnel you'll be working with have plenty of experience in the industry. They should be familiar with the various hardware and software used in colocation data centers, as well as be able to handle any technical issue that may arise. They should be able to work in emergency situations where time may be of the essence.
2. Technical Expertise
Remote hands support personnel do not have nearly the same level of technical expertise as smart hands support personnel. However, not all smart hands support personnel have the same level of technical expertise. Therefore, it's important to find staff that have a diverse range of skills and expertise so that they can solve any issue that may come up.
3. Flexible Services
Finding a smart hands provider that can offer flexible services is essential. This means they should be able to provide services on an as-needed basis, so you won't have to pay for services you don't need.
Some providers only offer smart hands support as part of a monthly plan while others will allow you to prepay for a set number of hours you can use towards smart hands support. In some cases, the provider will simply bill you after the fact based on how many hours you've used.
4. 24/7 Support
Because of the nature of data centers and the equipment they contain, you want to make sure that your smart hands provider can provide round-the-clock support. This is especially important when dealing with an emergency situation or a system outage. You don't want to be stuck waiting for support when every second counts.
As such, look for a provider that offers 24/7 smart hands support.
What To Expect
When using data center smart hands services, you can expect to have peace of mind knowing that your data center is being monitored and maintained by a professional.
Smart hands personnel can provide a wide range of services, from equipment installation and configuration to repairs and maintenance. They also have the technical skills and expertise to diagnose and troubleshoot any problems that may arise.
Furthermore, they can provide around-the-clock support in case of emergencies or system outages. This allows you to have the assurance that your data center is in safe hands, regardless of what time it is. By using smart hands services, you can rest assured that your data center is being taken care of and all potential issues are being resolved quickly and efficiently.
Are Smart Hands Support Services Worth The Investment?
Data center smart hands support services can be a valuable investment for businesses. They provide an extra set of trained eyes and hands to help manage and monitor data centers, detect any issues that might arise, and resolve them quickly. With smart hands support personnel on standby 24/7, businesses can be confident that their data centers are in good hands.
Additionally, investing in smart hands support can save you money in the long run. This is because you won't have to hire your own IT personnel to monitor your data center, which can be costly.
You also won't have to cover the travel costs every time you need someone at the data center to handle an issue or do basic maintenance, which can add up, especially if you're located far away from the data center.
Get The Support You Need To Keep Your Business Running Smoothly
Data center smart hands support services can be a valuable asset for businesses, as they can help maintain and manage your data center efficiently, as well as provide 24/7 support in case of any issues or emergencies. Find out what kind of smart hands support service we offer here at Hummingbird Networks and how we can help keep your business running smoothly.
Hummingbird Networks is the IT support solution for your business. Learn how our smart hands services can help you.