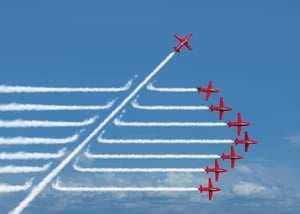 It's been awhile since we've talked about SD-WAN, aka Software Defined Networking or SDN. That's mostly because there just hasn't been much movement on it, aside from incremental upgrades from companies like Meraki and ADTRAN which have been active in developing SDN ideas.
However, it's starting to look like things are changing. Recently, Gartner made the rather startling prediction that investments in SD-WAN installations are going to increase tenfold in the next four years, describing it as a "highly disruptive force that is dramatically reshaping the enterprise router market." Likewise, Cisco also seems quite bullish on the future of SDN, in a blog post outlining what they soon expect to see from the technology.
So what's in store? The revolutions will most likely hit within the next year or two, making it clear as to why it's finally time for businesses at large to think about embracing the next paradigm in network architecture.
What's In Store For SD-WAN In The Near Future
1 - Ever-Growing Cloud Investments
Despite some remaining concerns about security, overall, the lure of the Cloud is simply too great for companies to overlook. In turn, this is going to directly impact SD-WAN, as greater cloud architectures will enable -and arguably demand- SDN on wide scales and across ever-larger geographic areas. Cloud-based networks will demand cloud-based management solutions that aren't tied to single geographical areas.

2 - Wrangling The Internet of Things
The IoT is starting to feel like one of those technological revolutions that's being pushed on us, whether we like it or not. And there are still major issues with security and accessibility to be worked out, particularly when it comes to IoT in the workplace. Designs intended to incorporate and, more importantly, protect IoT assets will be driving a lot of adoption.
Since "smart" devices aren't usually going to be so smart that they can include their own security systems, they'll be reliant on SDN style solutions to keep them safe.

3 - From Network Admin To Network Programmer?
One change that isn't so obvious at first is that SD-WAN may well end up changing how network administrators are fundamentally viewed. The stereotype of the venerable bearded "Unix Guru," off in his own little esoteric world of network administration magic, is quickly falling by the wayside.
With network management becoming far easier for laymen, there are two possible outcomes. First is that "network admin" simply becomes de-mystified and viewed as a much more mundane or potentially even entry-level job, equivalent to a machine operator. The other possibility is that admins - seeking to hold onto that mystique - will look to re-train and re-brand themselves as programmers, trying to enhance the inter-operability and security features that SDN already brings with custom-crafted solutions.
4 - More Managed Service Offerings
Another obvious outcome of the shift to cloud-based offerings and much more software-focused networking is that it will create even greater opportunities for XaaS networking solutions. Particularly if service providers can come up with clever custom programs which enhance existing network structures.
Many businesses may find less and less reason to have on-site IT at all, aside from folks focused solely on desktop-level local software support for the workforce.

5 - Increased Low-Power Wireless Access Adoption
Low-Power Wireless Access is starting to gain traction, for pretty clear reasons. The most recent WiFi standards -particularly 802.11ac Wave 2- can be extremely power-hungry, and this is a problem for overall implementation and particularly for IoT applications. While LPWA obviously sacrifices speed\bandwidth to run at low power, it's an appropriate solution for a lot of IoT-style appliances that don't need gigabit+ connections.
In turn, SDNs will have to take LPWA devices into account and be able to manage them alongside the more high-speed/high-power devices on the network.


It's a New World For Networking
While we recognize that there are still some kinks to work out with SDN, particularly when it comes to high-end scaling and true end-to-end security, it's looking increasingly likely that SDN will be the new face of networking in years to come. There are simply too many benefits in the realms of usability, configuration, and adaptability to multi-site expansion.
While we're undoubtedly going to see a lot of cool new tech come down the line in the next few years, at the moment, both Meraki and ADTRAN have good solutions that could fit businesses of nearly all shapes and sizes. ADTRAN is a great affordable entry-level solution for smaller SMBs, while Meraki has superior scalability with high-end features appropriate for larger-scale or even global operations.
If you're ready to move past per-device configuration and onto network structures that require far less day-to-day maintenance, contact Hummingbird Networks for a full consultation on your options.