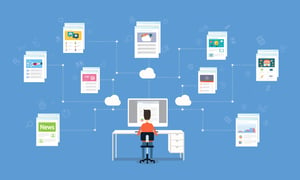 Have you explored your options for phone and internet services lately? There are more ISPs out there than ever before, and many of them now offer robust alternatives for networking, communications, and cloud-based services. Many also offer fully-managed service plans, taking the burden off you -and your IT workers- for extremely affordable monthly rates.
So, we've put together an Internet service providers list with some of our top picks in ISPs from around the country!
Exploring Your Options In Small Business Internet Service
This Internet service providers list isn't all-inclusive, of course. But you may not have heard of all these options, and they all have something different to offer.
Windstream
Windstream is one of the fastest-growing competitors to the major ISPs, and they offer a significant range of options for both small and large businesses. They're available in most areas, and put a high emphasis on integrated managed solutions. Windstream can offer Internet, cloud storage, unified communications, security systems, and more in a single package.
With plenty of industry awards and a history of positive customer service, they're one of the stronger options on the table.
ATC

Communications
Based in the greater Idaho area, ATC Communications offers both high-speed DSL and fiber options at highly competitive rates. DSL speeds go up to 100Mb/s, and fiber is being rolled out to more cities as we write this. Business phone services are also on offer at low rates, making them an excellent value for businesses in that area.
DirecPath
DirecPath is a spinoff of DirecTV, and primarily serves the American southeast, from Georgia to Texas. They focus on bundling Internet and VoIP-based phone services, with speeds up to 100Mb/s.
One option that makes them different is their FASTPASS WiFi system, which provides full WiFi coverage to extended areas such as condominiums and campuses with an all-in-one package. This can greatly simplify rollout to larger developments and properties, as well as streamlining the signup process for individual users.
ZTelco
ZTelco is based in San Francisco, and is dedicated to providing top-tier online services to businesses across California. They can offer a full range of Internet, VoIP or traditional SIP phone service, cloud storage, and mesh-based networking options that cover wide geographic areas. With up to 1Gbps in bandwidth an option, they have plenty of speed for growing SMBs.
ZTelco also offers a unique service for short-term Internet access, perfect for large events such as festivals and trade shows. They're one of the best-regarded ISPs in this field across the state.
Logix
Serving Texas and Oklahoma (for now), Logix provides fully-integrated business Internet solutions for companies of virtually any size. Their service goes up to 100Mbps, with a full range of options in voice and cloud services. Logix also specializes in installations, and can fully wire a building with the latest in "smart" innovations. And having been in business since 1983, they have more experience serving more types of organizations than many of the other options on this list.
Time-Warner Cable
Of course, no internet service providers list would be complete without mentioning Time-Warner, among the largest and oldest of the ISPs available. Besides having one of the most robust networks in the industry, they offer a full range of 100% managed services, including network management, cloud systems, and security management. They also offer robust options for larger entities, making them an ISP your business can grow with.
Need Help Getting It All Together?
Hummingbird Networks can connect you with the perfect service provider for your business needs, and get you free networking equipment! Contact us today and we'll get back with you within 24 hours.