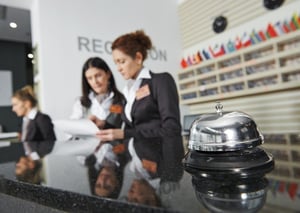 Hospitality WiFi is used in a number of ways. There is support for conferences and meetings the lodge is hosting. Hotels also use it for their own business offices. And, of course, to serve guest rooms.
This makes lodges a hubbub of WiFi activity. The reality is that some lodges and convention centers are playing fast and loose with the consumer access. The idea is pretty simple: They are blocking access so that the access can be sold to the consumer at an exorbitant rate.
Short on time? Download our free guide: How to Create a Wi-Fi Network your Guests will Love.
TheStreet's Robert McGarvey writes that this type of funny business is happening a lot:
Industry experts think hotspot blocking is an epidemic in the hotels and meetings business. "I believe it is quite common," said Jim Butler, a Los Angeles lawyer who represents hotel owners. He added that there is no data on this – no tangible numbers to prove blocking is commonplace – but suggest that it is a serious problem. He ominously added – for the ears of hotel operators and technology providers – that "criminal enforcement is next."
Indeed, criminal enforcemnt already is here. The Federal Communications Commission and Smart City Holdings, a company that provides WiFi access at convention centers, meeting centers and hotels in the U.S., have entered into a consent decree on charges that it jammed WiFi to force customers to buy their service. They charged a pretty penny -- $80 a day – for access, according to a story written by Butler at the Hotel News Resource. The piece said that Marriott International was fined $60,000 in October, 2014 for doing the same thing at the Gaylord Opryland in Nashville.
All this eventually will be sorted out, especially if the fine and bad PR keep adding up. What is clear is that hotels, motels and other places where people lay their weary heads are hotbeds of WiFi activity. Thus, it's clear that the lodge needs to have plenty of bandwidth and offer a high level of security. That no doubt includes running the three services – guest rooms, conference/meeting center and internal office system – on logically or physically separate networks.
One of the hacks de jure a while ago was man-in-the-middle attacks in which a nondescript person politely sitting in the hotel lobby with a laptop was a cracker trying to insert himself between guests and legitimate visitors to steal credit card and other sensitive info. Getting ripped off in that way is about as maddening as getting ripped off by the lodge – but a lot more frightening, since all the hotels want is a bit of money for access.
Lodges that are part of big chains no doubt will get best practices and directives from corporate IT and security personnel. Small organizations should bring in experts. Nothing – perhaps short of bedbugs – will ruin a lodge's reputation faster than poorly performing or insecure WiFi. Unless, of course, it is caught cheating.
What's your take on being charged for Hospitality WiFi? Have you ever been charged for it in the past?