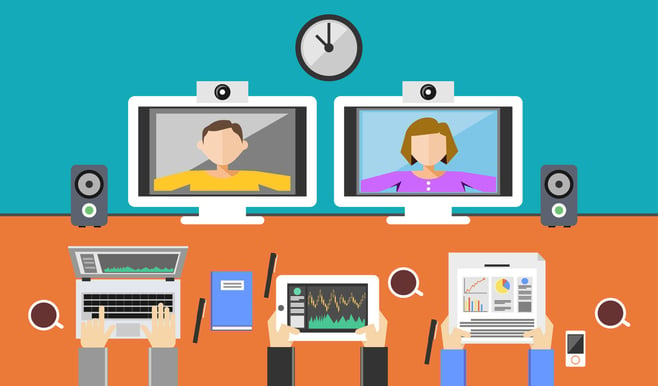 If your business is looking for a way to streamline its operations and make the most of your manpower, online collaboration tools are one of the best possible options. Cloud-based systems make it simple for employees to share documents and media files, work together on creation of content and products, and share the results quickly among anyone who needs to see it.
There are a lot of options out there, depending on your needs. Some software solutions are single purpose, others try to be all-in-one collaboration suites that could -theoretically- centralize everything in one single unified app.
In this blog, we wanted to talk about some of these options in terms of types of programs and technology out there, with some examples.
1. Video Collaboration
Unified voice and video collaboration systems, sometimes also called "telepresence" are becoming a mainstay in larger organizations. While the barrier for entry is still fairly high, such systems are becoming more affordable every day. The Yealink Videoconferencing System, for example, is well-made but within the budget of many small-to-medium sized operations. It also features excellent compatibility with other Unified Communications software suites.
If major hardware upgrades aren't in your budget, there are still software-based options that utilize your laptop\phone\tablet's built-in cameras. This would include systems such as Google Hangouts, Skype, or Cisco WebEx, which generally also include free services alongside paid upgrades.
2. File-Sharing
Being able to share files is critical for any collaborative document or product creation. Luckily, there is no lack of options for quickly and easily storing files in the cloud and making them publicly available.
In most cases, Google Docs is all a smaller organization would need for collaborative work on text documents, spreadsheets, and slideshows. Dropbox is another popular option for free file sharing, and has apps that allow it to integrate into OS environments - even directly into the file system in some cases.
For larger or more demanding collaborative tasks, Office 365 is a good solution - although you'll be paying for yearly subscriptions.
3. Hosted Platforms
There are a number of platforms which sort of blur the line between "social network" and "collaboration," but can be effective at bringing your workforce together onto a single network for larger-scale projects. Slack is probably the most popular of these, plus it allows integration with many of the more common free systems we discussed above, like Skype and Dropbox, to make it a sort of ad-hoc all-in-one system.
Yammer would be another alternative if you're more invested in Microsoft products, as it's part of the Microsoft family. So expect easy integration with Office, LinkedIn, etc.
4. Specialized Applications
Sometimes you don't need a jack of all trades. Here are a handful of tools designed for very specific purposes, and do them very well:
Bring Your Team Together
No matter how you go about it, you can significantly speed the pace of projects, and get more for your man hours, by utilizing online collaboration software to bring your team together.
Is it time for network upgrades to support collaboration? Contact Hummingbird Networks to make it happen!