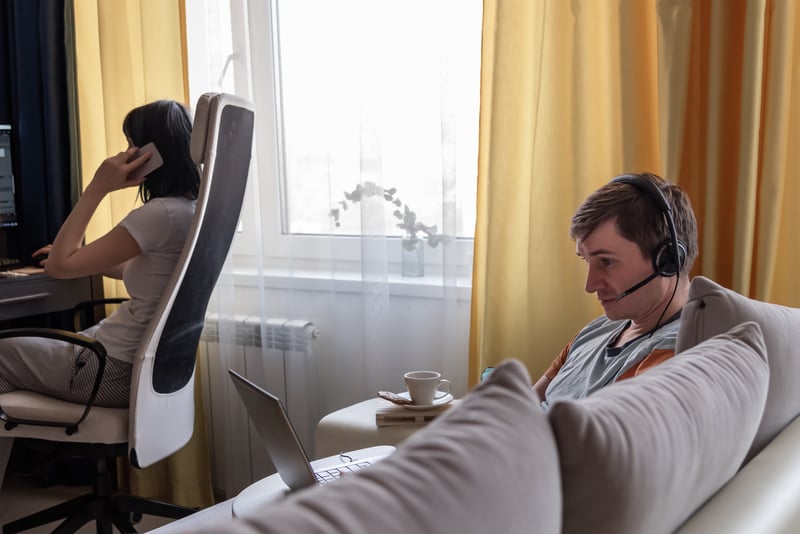 Remote working, also known as telecommuting, has been a growing trend for a while especially among millennials. COVID-19 containment measures initiated by governments worldwide abruptly forced most organizations to implement this strategy. What does the future hold for business remote work solutions?
Factors That Contribute To A Successful Remote Work Strategy
If you want to maintain productivity, reduce employee turnover and reduce operational costs, focus on:
1. Communication
Your communication infrastructure is arguably the biggest determinant of whether remote working will succeed or fail. The most popular tools right now include WebEx, Zoom, Slack, DropBox, and Teamwork.
For video conferencing, messaging, live chat and file sharing to work smoothly, you need a reliable and secure internet connection. Your network needs the latest hardware in the form of routers, switches, firewalls, and wireless access points.
Ensure your remote workers are properly trained on how to handle both the software and hardware to avoid unnecessary interruptions. Slack for example saves time because the entire team can communicate fast in real time, which would be harder through email.
2. Clearly Defined Objectives
Some of the benefits of telecommuting include attracting top talent, lower costs, flexible schedules, and low employee turnover. Do your remote workers know exactly what's expected of them? You must formulate a list of both short and long term objectives that they should work towards.
They're more likely to be motivated if they see the organization's bigger picture. Set milestones that each employee can fulfill while tackling the workload assigned to them.
3. Dependable Schedule
Remote workers might have flexible schedules, but that doesn't mean they won't be held accountable. If they agree to a certain timetable, they should be able to follow it. If they foresee challenges with the workload, they must inform management as soon as possible so a solution can be worked out.
One employee's failure to keep up with the schedule may negatively affect the entire company's output.
4. Company Culture
Even though remote workers have a sense of autonomy, it's important to make them feel valued by the organization. Other than getting the work done, the best communication tools also improve teamwork and personal connections between employees.
Video conferencing, screen sharing, live chats and other communication tools ultimately help shape a unique organizational culture.
Long Term Effects of Transition to Remote Work
The short term challenge for most IT departments during this coronavirus pandemic is in setting up functioning remote working facilities. These tasks included increasing bandwidth, as well as enabling syncing, file sharing, VPNs, remote desktop connections, and other virtual setups.
The longer the pandemic lasts, the more comfortable employees become with the work from home arrangement. Will telecommuting become entrenched in the corporate scene, or will it be abandoned once COVID-19 passes?
Freelancing, contracting, and remote working were witnessing high annual growth even before this crisis. Most tech-savvy organizations were already
exploring this solution. Now that you've been abruptly forced to implement it, it's the perfect opportunity to gauge its effectiveness.
Challenges likely to arise from telecommuting include:
(i) Maintaining Productivity and Creativity
Remote workers need to be disciplined to avoid the distractions associated with working from home. Although remote supervision exists, in some cases it's not as effective as in an office setup. Failure to maintain schedules could result in reduced productivity.
The lack of proximity to teammates also makes it harder to brainstorm and solve the most pressing issue. Although video conferencing and communication tools are increasingly focusing on boosting teamwork, most remote workers will need time to adjust.
(ii) Managing Performance
Another challenge involves figuring out just how much work each employee should do, and how their performance should be rated. There's also the possibility that several repetitive tasks will be performed, which will cause time wastage.
Fortunately, cutting edge solutions such as AI, machine learning, and cloud computing will improve remote working tools and procedures.
(iii) Providing Tech Support
Your IT team might experience problems attending to the needs of a distributed environment. Tech support will have to be on standby to address the myriad issues identified by telecommuting employees.
They include connection, syncing, file sharing, compatibility, and software upgrade problems. While these hiccups can be sorted fairly easily if most employees are in the same building, it will take time to do so remotely.
The larger your organization is, the bigger these challenges will be because you have a broader distribution of remote workers. One positive effect of this pandemic will be increased innovation by tech companies tackling these complaints.
In the long term, remote work will be a cost effective and highly productive solution, especially for startups.
Get the Solutions for the Needs of Your Remote Workers
With more than 15 years of experience in the IT field, Hummingbird Networks understands the needs of remote workers. We're highly skilled at selling, installing, and maintaining all the tools and equipment you'll need for the transition. Our support team is on standby for consultation on the process and cost of setting up, depending on the size of your organization. Don't hesitate to contact us for details.