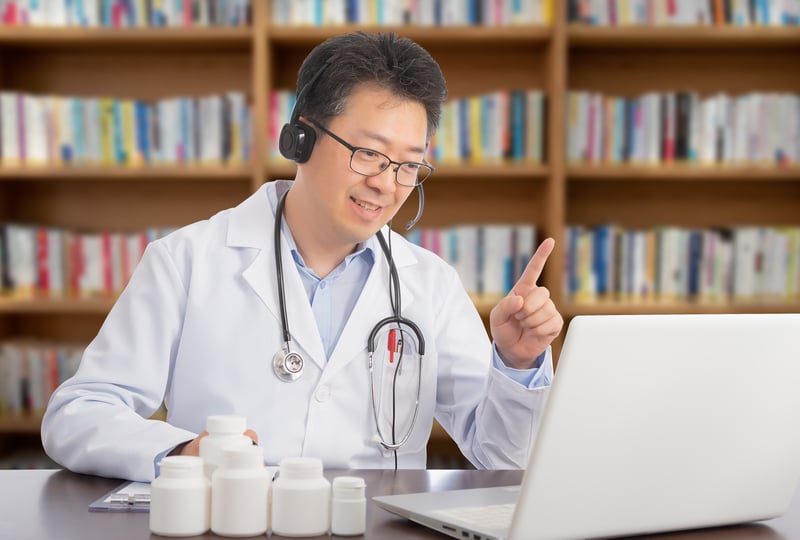 Telehealth was growing fast before COVID-19, but the pandemic has prompted an explosion in demand. With most medical resources prioritizing containment of the virus, TeleMed providers have scrambled to fulfill other healthcare services. While this situation has reduced the burden on the healthcare system, it has also increased the risk of malicious attacks.
TELEHEALTH PRIVACY AND SECURITY CONCERNS
The federal government has already cleared some popular video chat applications for telehealth services without risking HIPAA fines. They include Skype, Google Hangouts, Zoom, and Facebook Messenger's video chat feature.
The Office of Civil Rights (OCR) expects these apps to be fully encrypted. Service providers should also turn all privacy modes on, as well as inform users of potential privacy risks. Zoom has been forced to discontinue its Facebook SDK on iOS after determining that it was collecting unnecessary user data.
Hackers target healthcare organizations because of the treasure trove of information contained in their databases. Other than healthcare provider data, bad actors steal Personal Health Information (PHI), health insurance details, and medical prescriptions.
Hackers sell provider data in the black market or use it to assume a doctor's identity. They then use these details to make Medicare claims, including reimbursements for expensive surgeries. The victim is left to deal with the repercussions. Other security threats include:
(a) Double Extortion Ransomware Attacks
After stealing data from a healthcare provider, hackers exert pressure in two ways. They make the usual ransom demand but, at the same time, deploy a portion of the data in the black market. These attacks are increasing in scope, including targeting mobile devices.
Hackers are taking advantage of the confusion and the need for information regarding COVID-19. They're accessing sensitive data by offering free resources such as coronavirus alert and tracking tools. Some potentially unwanted programs have also been forced upon users through the installCore distribution platform.
These malware-laced tools either steal the user's data or encrypt it and ask for ransom. To pressure you further, they threaten to leak your sensitive information to social media or other public websites.
(b) Unencrypted Medical IoT Devices
Medical IoT (IoMT) resources are playing a massive role in keeping people healthy as they observe stay-at-home restrictions. One of the biggest challenges of mass adoption is security concerns.
Unlike major healthcare providers that have cybersecurity measures in place, individual remote care devices aren't as secure. Since they depend on home networks for internet access, they lack the means to thwart sophisticated attacks. They also don't receive security patches as regularly as they should.
(c) VPN Leaks
Virtual Private Networks are essential for remote access to healthcare services and secure data sharing. Although they offer safe access points, some also have vulnerabilities that can affect healthcare providers and users.
With several VPN providers in the market, choosing the most secure can be confusing. Common weaknesses include IPv6, DNS, and WebRTC leaks. If your VPN keeps leaking data, digital eavesdroppers might intercept it and use it for malicious purposes.
TELEHEALTH BEST PRACTICES
The following recommendations work well to improve data security in the booming telehealth sector:
The attack surface should include all tools and devices that connect to your network. They include internet-enabled medical devices, payment gateways, and medical record databases. Increasing this security visibility means you can quickly identify
an attempted network breach.
(ii) Identify Emerging Threats
Once you establish broader security visibility, implement measures that will detect and prevent cyberattacks. This process includes upgrades to your antivirus, applications, and operating systems. You should also install firewalls, secure wireless networks, limit access to data, and change passwords regularly.
(iii) Ensure Compliance with Cybersecurity Regulations
Since cyberattacks are increasingly automated, your response must also employ the latest technology. Automation correlates the data you collect and organizes it in a way that allows you to implement actionable solutions.
AI and machine learning programs can project future attacks then implement solutions before they occur.
(iv) Partner with Specialist Healthcare It Providers
When hiring cybersecurity experts, it's beneficial to engage firms that are skilled in the health IT field. These Managed Detection and Response providers (MDRs) are well equipped to deal with the specific challenges telehealth organizations face.
(v) Invest in Data Backup Solutions
The key target of cyber attackers is data, so your focus should be on securing it. Since healthcare data is reputed to be more valuable than other forms, a proper backup solution should be an essential part of your cybersecurity strategy.
It should detect and remove viruses, have trained staff, back up sensitive information to the cloud, and implement access controls.
Get Your Networks Solutions Today!
At Hummingbird Networks, we understand the importance of technology in containing the COVID-19 pandemic. Our IT services and products allow you to observe containment measures by transitioning smoothly to remote work.
They include a video conferencing solution with HD video, up to 100 participants, screen sharing, among other convenient features. Contact us today for more information on how to improve your telehealth facilities.