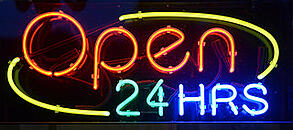 If you're interested in installing or upgrading the WiFi at your hotel, but concerned about the additional demands it will put on your staff, there are alternatives which take away the support burdens.
Until recently, if a business had an internal network, they would have to manage it for themselves. It usually meant having at least one trained IT worker on-staff, and qualified networking experts are usually expensive to hire. This meant significant overhead when attempting to offer a public network.
Today, there's no reason to take on those administrative burdens. Outsourced WiFi help desk support is now available at highly competitive rates, and can drastically reduce monthly network upkeep expenses.
Six Clear Reasons Outsourcing Your Hotel WiFi Help Desk Makes Sense
1 - Around-the-Clock Coverage
Outsourced IT support is something like professional security services: You're getting off-site staff who are watching over your network at all hours a day. If there are any issues or red flags, they're noticed immediately - even if it's 3 AM. So hiring an outsourced IT provider is like getting two or three full-time employees, covering all shifts.
2 - Advanced remote support.
Part of what makes these outsourced services possible is that modern cloud-ready networks truly don't need local administration much of the time. Aside from physical changes, everything else can be monitored and controlled remotely. Modern networks can be managed entirely by a single person, from virtually anywhere in the world.
So why pay for someone local?


3 - High quality experts on-call.
Modern networks are much easier to manage and automate, but largely that means when something goes wrong, you need expertise on your side more than ever. So, using offsite IT support services is like insurance. Rather than investing heavily in onsite experts, whose talents won't be needed 99% of the time, you can have experts on-call who are simply there when you need them.
4 - Invisible support for guests.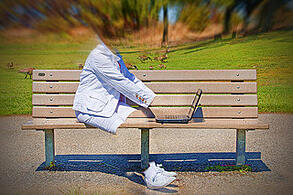 For hospitality businesses, a public WiFi network necessarily means increased burdens on your desk staff. If the Internet isn't working, the guests are all going to be calling.
Offsite IT can answer the phones on behalf of your own staff, or even present the illusion to guests that they're on-site. Any technical calls can be routed to them directly, taking the weight almost entirely off the front desk. It's an easy way to implement WiFi without overburdening your staff.
5 - Upgrades are often included.
Service packages vary depending on the provider, but in many cases it costs little or nothing extra to include software or hardware upgrades in the service fee. Software upgrades can be handled invisibly, usually in the middle of the night, so that they don't disrupt operations.
Hardware upgrades are provided by trained experts who also know how to minimize disruptions. It makes upgrades far more likely to succeed without causing issues, and it's usually cheaper than doing it yourself.
6 - All-in-one support is available.
If you truly want to get it all, from hardware installation to ongoing support, consider ADTRAN and their ProServices line of offerings. ADTRAN is becoming a pioneer in turnkey networking solutions. They can set you up with a high quality virtualized WiFi network, see it installed, provide all the cloud services you need, and provide ongoing support.
For a smaller business needing all-in-one networking solutions, ADTRAN ProServices can do it all.

There Are Outsourcing Options For Everyone
The best thing about the modern offsite IT market is that it's a true "we do it YOUR way" situation. Whatever custom combination of services you need, there's a provider who can put it together with as many or few options as you require.
Given the many benefits of adding WiFi to a hotel, this creates an easy way for any hospitality business to give their customers the services they want.
For more information on ADTRAN ProServices or any other options for easy WiFi upgrades, just contact Hummingbird Networks for a free WiFi evaluation!
photo credit: mag3737 via photopin cc