Adtran Total Access - sometimes referred to as "integrated access" - is nothing short of a revolution in the manner in which enterprise communications and networking happen.
Essentially, total access means combining the various streams of voice and data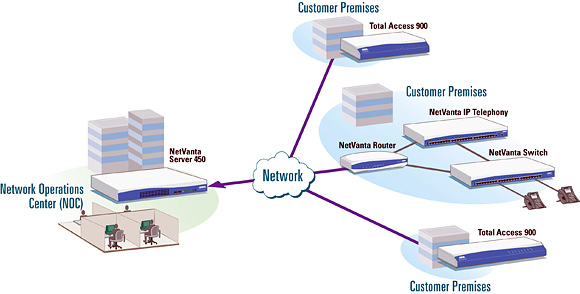 communication that make up an enterprise's operation into one system, scalable to the specific needs of that enterprise. Previously, an organization was required to implement different solutions for it's phone/PBX needs and it's networking needs. And while some
providers offered the various services as an integrated package, when it came to the hardware side of things, complexity was a given.
And for the provider itself, this meant the implementation and maintenance of two or more separate systems, each with their own protocols and demands. Aside from the added expense of the extra equipment required, the provider also had to either hire additional expert staff or facilitate the additional training of existing staff to accommodate the added complexity.
But now, thanks to the integrated access standard offered by devices like Adtran's Total Access Sip Gateways, truly integrated solutions can be provided to client enterprises, facilitated using a single gateway.
The 900 series equipment is designed to simultaneously provide voice service to both IP phones as well as legacy telephony, while also acting as an ethernet gateway for the enterprise's data network. They operate using a single T1 line, and can provide either 4, 8, 12, 16, or 24 analog FXS interfaces. Alternate configurations are also available for the Total
Access 924, such as 16 FXS analog interfaces and 8 FXO digital interfaces. This makes the 900 series equipment that much more readily integrated into a wide range of existing communications solutions.
In addition to the connectivity versatility, the 900 series equipment is outfitted with a robust
line of features to provide top-of-the-line service and reliability. Security is assured with an onboard firewall and VPN functionality. Routing, QoS, and dynamic bandwidth monitoring work together to ensure optimal performance from the network. Voice Quality Monitoring functionality delivers reliable and pristine audio quality during voice communication. And an intuitive remote management system provides the means to configure and manage the equipment.
For solutions requiring more than a single T1 connection, Adtran's Total Access 900e series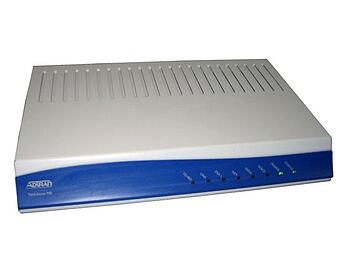 delivers all the functionality of the standard 900 series equipment, but can also handle up to 4 T1 connections per gateway. This is the ideal solution for large-scale organizations such as medical facilities or educational institutions.
The beauty of Total Access is that whether the application involves a small office or a huge complex, networking and communication is consolidated, not just on paper, but in physical
actuality. This leads to numerous increases in efficiency and performance.
So what does total access really mean, aside from all the new features and equipment?
Simply put, it means that an enterprise can spend less time planning and maintaining the logistics of their networking and communication, and more time accomplishing the mission the networking and communication is there to facilitate. Compatibility goes from being a major headache to barely being a concern. Systems become integrated and complexity gives way to efficiency and elegance.
For the enterprise in question, this translates to a significant potential for performance improvement, regardless of the type of organization. For the company providing services to said enterprise, it means the ability to offer a superior, more reliable product that is much easier to implement and maintain.
Have any questions about Total Access or anything networking? Contact us we'll be glad to help you out and find the best networking solutions for you.