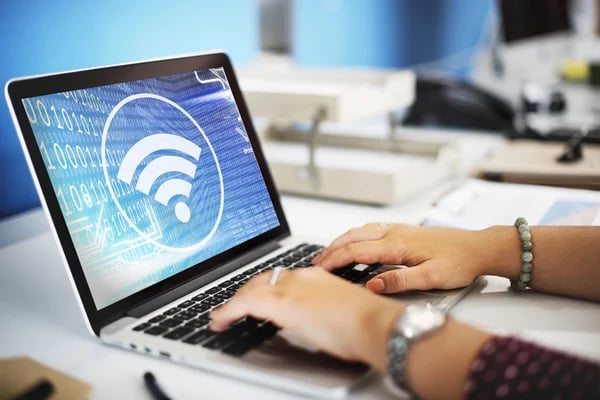 When setting up a wireless network, planning is crucial to ensuring that your organization has the best coverage, not to mention performance. Careful planning will ensure high speeds, full coverage, and reliable connections that can handle any workload size.
However, designing your wireless network is easier said than done. With that in mind, the following are a few essential tips to help ensure that you plan your wireless network right:
1. Define The WiFi Capacity And Coverage Goals
Before setting up a wireless network, you need to identify exactly what your network needs to do. As such, consider what your coverage and capacity goals are. Coverage is how large of an area your network needs to cover, while capacity refers to the bandwidth and the number of users or devices your network can handle.
Identifying these requirements will depend heavily on what the business goal of your WiFi network is.
For example, if you're setting up a network in a store, you might need to cover the entire building and provide enough bandwidth for all customers. On the other hand, if you're setting up a network in an office, you might only need to cover specific areas and provide enough bandwidth for all employees.
2. Choose The Right Type Of Wireless Network
Once you've determined your coverage and capacity goals, you can choose the right type of wireless network for your needs. There's a lot to consider when selecting a wireless network.
For example, in addition to picking a provider, you'll also need to take into account the size of your building and your channel utilization.
You'll also want to determine if you will use an on-premise controller device or a cloud-managed system to manage your network. Both provide an easy way to manage your network, but a cloud-managed system allows you to adjust the settings remotely easier than on-premises, and can usually infinitely scale without the need for additional controller hardware and maintenance.
Finally, you'll need to consider whether or not you need to use multiple access points (APs) to ensure full coverage.
For example, using multiple APs may be necessary if you have a larger space to cover and high channel utilization. In this case, you'll need to figure out how many APs you'll need to provide the coverage you need, and set each transmit and receive power accordingly
3. Ensure Wireless Security
Security is critical for any organization implementing a wireless network. After all, you'll need to protect your data, users, and devices from inside and outside threats. Although the wireless network won't protect your data, ensuring the network is secure will. There are several ways to enhance your WiFi network's security.
For example, installing a firewall and updating access point software regularly are easy ways to reduce security vulnerabilities. However, you should restrict access to your network by setting up the latest authentication protocols (such as WPA3) that require users to enter a username and password or authenticate in an even more secure manner.
Additionally, you should use network segmentation to create separate networks for different types of data, or for specific user groups. Finally, you should also use encryption to protect transmitted data from being accessed by outside sources.
To ensure your wireless network is as secure as possible, consider getting a professional network security assessment. Here at Hummingbird Networks, we can evaluate your network to identify potential vulnerabilities and provide recommendations for further protection.
Ensure A Smooth Network Right From The Planning Stage
Organizations of any size depend on their wireless network to stay connected and productive. As such, it's essential to properly plan your wireless network right from the start. If you don't, you could end up with a spotty network that doesn't provide the coverage or performance you need to run your business efficiently or effectively.
These tips for planning a wireless network will help you get started, but you should still get a wireless network assessment to give you a better idea of what your specific needs are. With proper planning and implementation, you can ensure that your wireless network is up to the task of powering your business.
At Hummingbird Networks, we can provide you with a comprehensive wireless network assessment to help you plan and set up the perfect wireless network for your business.
Hummingbird Networks can help assess your IT infrastructure to ensure the optimum performance of your network. Learn about our service here.